Continuing this series of in-depth midterm election analysis, this entry will focus on President Trump's impact on the electorate thus far.
Midterm elections are commonly regarded by political scientists and pundits as a referendum on the president. Simply put, the midterms are supposed to be when the voters realize what they've done and set course to correct their mistakes. For example, the American people elected Bill Clinton to the presidency in 1992; however, the following midterm election was 1994's "Gingrich Revolution" in which the GOP claimed control of the House and Senate in massive electoral victories.
Today's Democratic pundits expect voters to similarly take to the polls this year to express dissatisfaction with the current administration. Anticipation of this backlash against Trump is so strong that many are predicting what they call a "Blue Wave" to sweep the nation.
So, what effect does Trump have on the 2018 electorate?
Approval Ratings
Ahead of the 2018 midterm elections, Trump's approval rating seen a recent surge. According to an NBC/Wall Street Journal poll, President Trump's approval rating has jumped to a higher level than former President Obama's approval rating at the same time in his presidency. According to the same poll, Trump's approval rating is at a record high of 47 percent. NBC reports:
"But nearly two weeks before Election Day, the same poll also shows President Donald Trump at his highest job rating yet as president, as well as Republicans with their largest lead on the economy in the poll's history."
"Trump's job rating among registered voters stands at 47 percent approve, 49 percent disapprove — up from 44 percent approve, 52 percent disapprove a month ago. That's his highest rating as president in the NBC/WSJ poll."
The NBC/WSJ poll also found that "Thirty-three percent of registered voters in the poll say their vote for Congress in 2018 will be a signal of opposition to the president; 29 percent say their vote will be a signal of support; and 36 percent say it won't be a signal either way."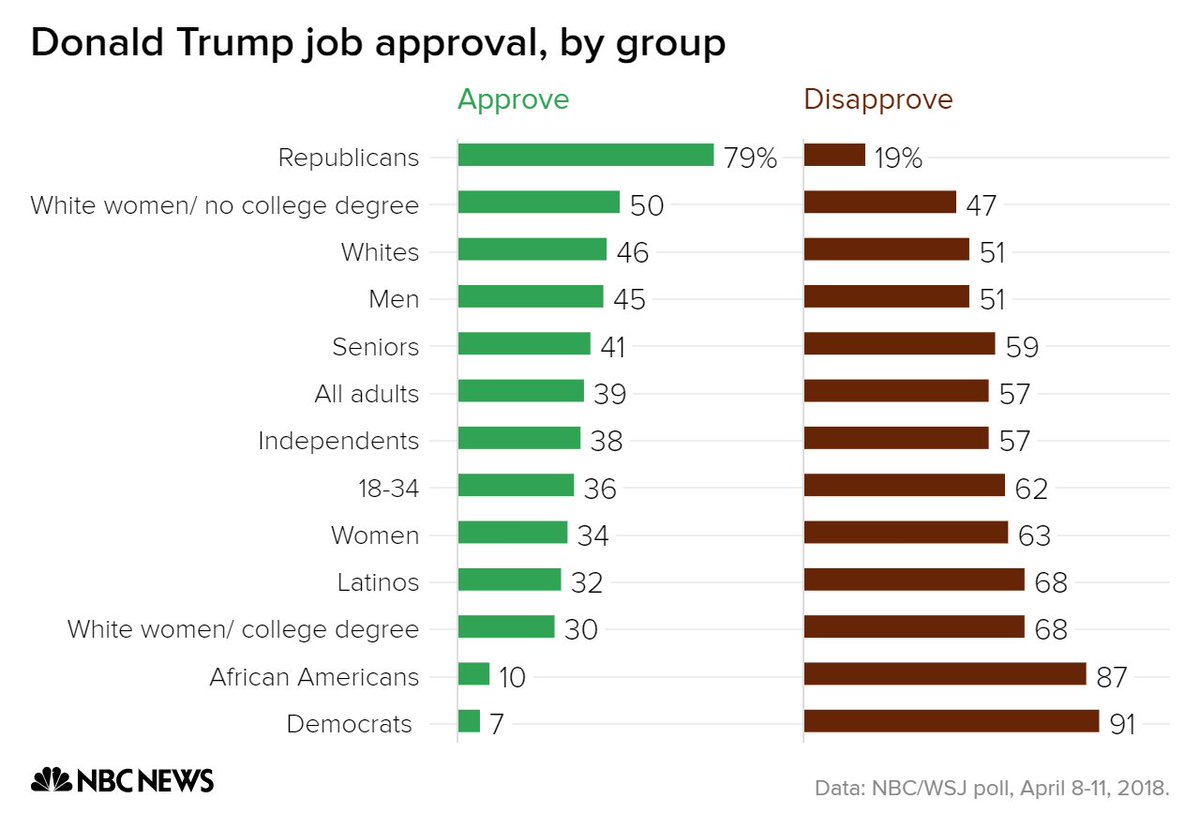 Trump's presidency has also breathed fresh life into the GOP. Trump's approval rating among Republicans remains around a consistent 90 percent. Amidst Trump's record-high approval ratings, the Republican Party has also reached new heights in its own approval rating, which hit its highest numbers in nearly a decade. According to a Gallup poll, the GOP's approval rating is at 45% as compared to the Democrats' 44% approval rating. Breitbart reports:
"Gallup's Jim Norman wrote: The parity in Republicans' and Democrats' favorable ratings marks a change from what has generally been the case since Barack Obama's election as president in November 2008. Republicans have usually been rated less positively than Democrats over this time, with the Republican Party's favorability rating for the last decade averaging 39%, compared with the Democratic Party's 44%. Only one other time in the last decade has the Republican Party had a significantly higher score than the Democratic Party. That one exception came in November 2014, immediately after elections that saw Republicans capture control of the Senate and expand their majority in the House, when 42% rated the GOP favorably and 36% the Democrats."
Gallup suggests that intra-party is the reason why the GOP has now surpassed the Democrats in approval ratings and indicates that under Trump's presidency, Republicans are on the rise among the American people. Breitbart reports:
"The overall increase in the favorable image of the Republican Party is a result of a jump in the positive views of Republicans, including independents who lean toward the party. The percentage of Republicans and leaners with favorable views of their party grew from 67% last September to 85% now."

The polling also found that "Two other major subgroups that tend to be more Republican than the overall population — men and those living in middle-income households — have become more likely to view the Republican Party favorably in the past year."
Presidential Referendum
According to Pew, the portion of the electorate responding that President Trump is a factor in their 2018 midterm election vote is the highest recorded since 1982 when they began tracking that question. This metric accounts for both Democrats motivated to vote against him as well as Republicans motivated to vote for him.
Pew Research Center reports on their findings:
"Six in 10 registered voters said President Donald Trump is a factor in a Pew Research Center poll taken in September, including 37% who said they'll cast a ballot to oppose the President and 23% who'll be voting to support him. Just 37% said Trump isn't a factor in their vote for Congress."
Indeed, Pew concluded that in this year's election, voters are vastly more concerned about the control of Congress and the President than in previous midterms.
Pew Research Center continues:
"More than a third of voters (37%) say they consider their congressional ballot as a vote against Trump, while about a quarter (23%) say they consider it a vote for Trump.
"About two-thirds (66%) of Democratic and Democratic-leaning voters say they think of their vote for Congress as a vote against Trump, while about half (48%) of Republican and Republican-leaning voters say they think of their vote as a vote for Trump.
According to Pew, the percentage of Democrat voters who consider their vote for Congress as a vote against the president is comparable to the number of Democrats who considered their vote in the 2006 midterms as a vote against George W. Bush, which is also similar to the portion of Republicans who considered their vote in the 2014 midterms for Congress as a vote against Obama.
These data points make it clear that—for better or for worse—Trump has an enormous impact on this year's midterm elections.
Endorsements
The final element to examine when looking at Trump's effect on the midterms is endorsements.
The president has many jobs—chief executive of the federal government and commander-in-chief of the military being the two biggest—but another duty of any president is as the de facto leader of their respective political party. Of course the Republican National Committee has its own internal leadership structure, currently headed by chairwoman Ronna McDaniel, but the power dynamic shifts when the party takes overwhelming control of the government as the GOP did in 2016. Prior to Trump's election, this leadership role was assumed by Paul Ryan as the formerly highest ranking Republican in government.
One of the most important duties of the party leader is to help campaign for down-ticket races. In order to best do his job, the president needs his party to control Congress, therefore he must do what he can to ensure this. The mainstream media has been covering Trump quite a lot lately as he travels all around the country holding rallies to stump for Republican candidates.
Recently, Trump's Twitter has been dominated by his Tweets endorsing Republicans and attacking their Democratic opponents. Some Republicans receive his full endorsement, while others still have his support despite not having an official endorsement. An official endorsement from any president obviously carries a lot of weight, so the question remains: What do Trump's endorsements mean for the midterm elections?
The Washington Post has already noted that although congressional candidates are running on their legislative records, the electorate votes based on their relationship with Trump. As the Washington Post put it:
"For Republicans, the risk is sticking close to a president with immense star power among the MAGA faithful but who is radioactive to other voters. For Democrats, the options are attacking Trump and appearing to be members of a "leftist mob," or staying mum and turning off voters eager for an aggressive check on the president."
From my own research of various Congressional candidates, it seems to me that mainstream Republicans have gotten the message and are on board the Trump train. For example, Ohio's Republican Senate candidate, Congressman Jim Renacci, has even went so far as to mirror Trump in his "Ohio First" campaign slogan. Of all the Republicans running for Congress, I have yet to hear of one who hasn't at least shallowly embraced Trump and his policy agenda, regardless of how red their district or state is.
FiveThirtyEight has written at length about Trump's endorsements:
"Let's start with the kingpin of the Republican Party, the president himself. Trump endorsed 17 candidates in open Republican primaries this election cycle, and 15 of them won. That 88 percent win rate is the highest of any person or group we looked at."
I have also included FiveThirtyEight's graphic below, which shows the endorsements of several major organizations in conservative politics: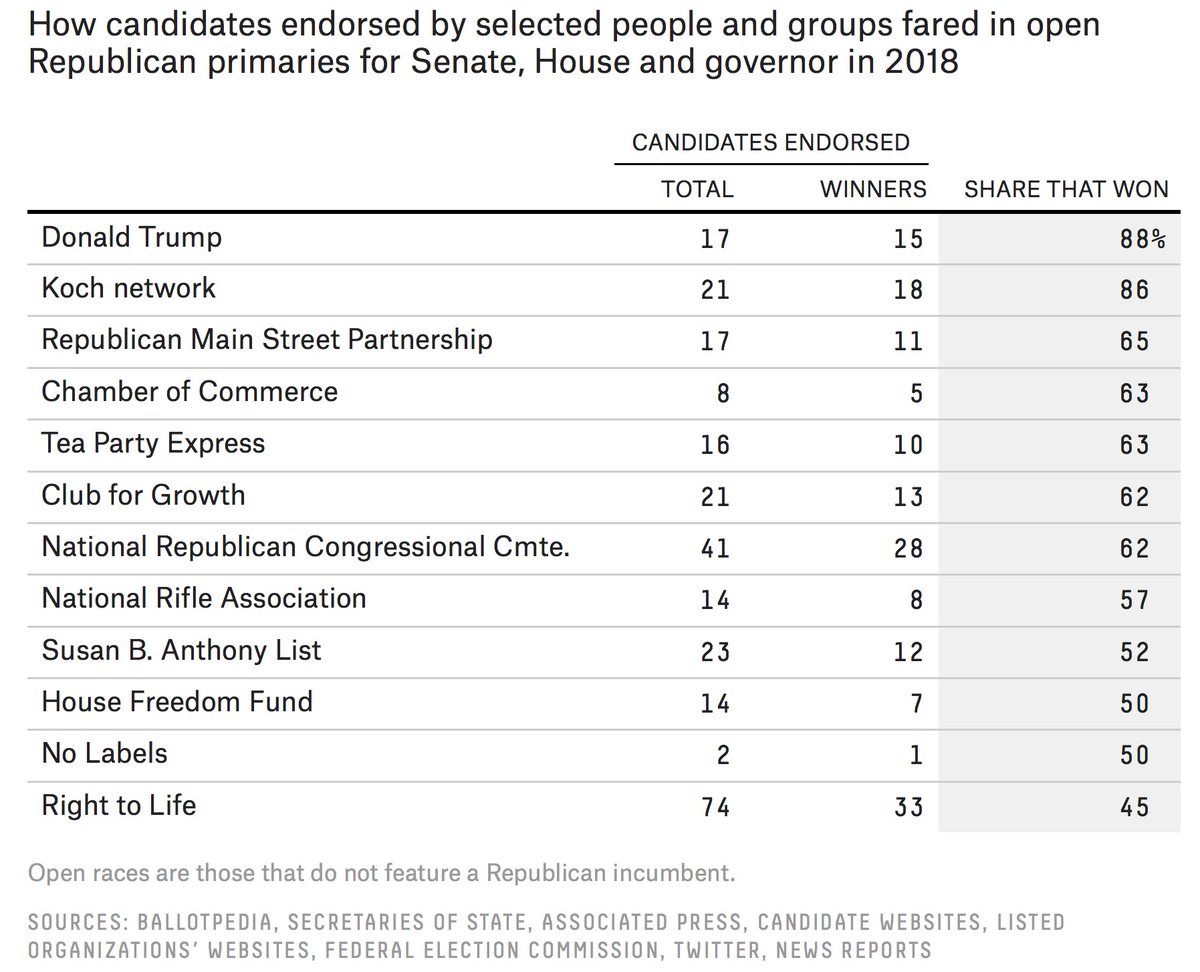 Messaging
As the leader of the GOP, Trump also has control over messaging. In political campaigns, messaging refers to the candidates communications with the electorate which typically states an issue, proposes their solution to the problem, and specifies the action people can take to fix it (i.e. vote for them). To put it simply, messaging refers to the candidate's reason why they are running and why you should vote for them.
While previously emphasizing his tax reform bill and the booming economy, President Trump has recently made a point to refocus the midterm elections on immigration due to the migrant caravan crisis. Breitbart reports:
"In an effort to refocus the midterm elections on his popular pro-American immigration agenda — wherein he has sought to build a wall and reduce overall immigration to the U.S. to boost the wages of America's working and middle class — Trump said: Blue wave means crime. It means open borders. Not good. We need new laws. We need border laws, we need immigration laws — we need 'em fast, we're going to get 'em. Hopefully the midterms will help toward that end."
But how effectively is this messaging? Breitbart references an opinion poll which offers some insight:
"Trump's "America First" immigration agenda has had widespread support for years now. A previous Harvard/Harris poll found that nearly two in three voters support Trump's effort to reduce overall immigration to the country — the U.S. currently admits more than 1.5 million foreign nationals every year."
In a separate article, Breitbart cites another opinion poll:
"The Harvard/Harris poll revealed that 77 percent of white voters, 53 percent of black voters, and 51 percent of Hispanic voters said they believe the U.S. needs to crack down on immigration laws."
We have seen time and time again that Trump's nationalist immigration policy is a winning agenda to run on, and I believe this will be reflected in the results of the midterms.
Conclusion
The data reveals that while Trump may be energizing Democrats ahead of the midterm elections, the success of the GOP under his presidency is also mobilizing the Republican base in a way we haven't seen in a long time.
The most important thing for us as a movement is to get out and vote on November 6th in order to send a message to the country.
Stay tuned for more midterm election analysis!